IMF giving high Praise to Actions by Moldovan Government
• Posted Wednesday, 26 July, 2000 - 18:17 EST by Interlic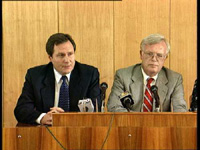 IMF Mission Head and Advisor of the IMF Second European Department Richard Haas gave high praise to the actions by Dumitru Braghis's Cabinet, INTERLIC News agency reports.

As he noted, the year 2000 was hard for Moldova, which was deprived of any external financing, Besides the republic had to face great problems due to the severe drought.

As he emphasized, the financial, revenue and monetary policies of Moldova were correct during this period. It gave the chance to the Cabinet to service timely and completely its foreign debts, to regularly pay and to reduce the pension and salary arrears, to diminish the inflation level.

As the IMF Mission Head declared, the step-down in the GDP will not be in virtue of the government policy, but due to a number of other well-known factors. The GDP is predicted to drop down by 7%. The inflation will constitute 17-18% by the end of the year.

By estimates of the IMF experts, the gross domestic product of Moldova will be increased by 5% in 2001. The inflation level will be reduced down to 10% and the budget will be realistic and executable even at the cost of Moldova's domestic resources, INTERLIC News agency reports.