Commonwealth of Independent States: A Rebalancing of Growth Is Needed to Sustain the Expansion
Real GDP growth slowed significantly in the Commonwealth of Independent States (CIS) during 2005, to 6.5 percent from 8.4 percent in 2004 (see table below). A particularly sharp slowdown in Ukraine accounted for much of this, although the pace of expansion also moderated in other key countries in the region. Lower output growth in the energy sector (Russia, Kazakhstan), political and economic uncertainties that undermined investment (Ukraine, Kyrgyz Republic), and an increasingly negative contribution from the external sector (Ukraine, Russia) all contributed to this weaker growth.
At the same time as growth has slowed, the composition of demand has been very unbalanced, raising concerns about the sustainability of growth going forward. Investment has remained weak, averaging just under 21 percent of GDP in 2005, the lowest of any emerging market and developing country region (see charts below). Consumption, on the other hand, has expanded strongly, particularly in Russia, Ukraine, and Kazakhstan, underpinned by large hikes in wages and public pensions and increased access to credit. Indeed, credit has grown extremely strongly in a number of countries in the region, and in Ukraine and Kazakhstan has increasingly been directed at households and a significant share is denominated in foreign currency. While the ongoing process of financial deepening in the region is welcome—the ratio of bank credit-to-GDP is still low in many countries—rapid credit growth poses a risk to financial stability given banks' generally weak abilities to assess borrower creditworthiness and the increasing reliance by banks in some countries on financing from abroad.
This combination of strong consumption growth and weak investment has led to increasing capacity constraints in some countries and sectors and, together with higher food and energy prices (although pass-through to domestic prices has not been complete), contributed to a sharp increase in inflationary pressures in the first half of 2005 that have moderated only slightly in recent months. The current account, however, remains in large surplus at the regional level, although there is increasing differentiation across countries. In energy exporters as a group, higher oil prices underpinned a further increase in the surplus during 2005, but in energyimporting countries the surplus declined due both to higher oil imports and an increase in non-oil import volumes.
Looking forward, growth is projected to slow further to 6 percent in 2006, although decisive policy actions will be needed to lock in this pace of expansion. Monetary policy will increasingly need to focus on reducing or containing inflation, with the authorities correspondingly allowing nominal exchange rates to appreciate as necessary. And while countries that are benefiting from higher oil revenues have scope to raise productive government spending, such increases will need to be carefully managed in line with cyclical considerations to ensure they are consistent with overall macroeconomic policy objectives.
To encourage investment spending, a more hospitable business climate needs to be created by reducing uncertainties about government intervention in the economy and moving to strengthen the institutional structures necessary for vibrant market-based economies to flourish.
Structural reforms are also needed to boost productivity in the noncommodity sectors to improve competitiveness in the face of upward pressures on exchange rates. In terms of the financial sector, progress has been made in banking reform, but it has lagged that in countries in central and eastern Europe. Regulatory and supervisory systems, in particular, need to be upgraded in line with the growing importance of the financial sector.
Turning to individual countries, after a weak start to 2005, real GDP growth in Russia has accelerated, and the economy is expected to expand by 6 percent in 2006 (0.8 percentage points higher than projected in the September 2005 World Economic Outlook). The expansion is being driven by private consumption, while export growth has fallen. Investment, despite a recent pickup, is relatively subdued, and concerns remain that the economy may begin to run into capacity constraints. Real wages are rising faster than productivity, imports are surging, and CPI inflation is running at over 11 percent.
Against this background, fiscal policy should not be relaxed until cyclical pressures have eased, and monetary policy needs to be tightened.
Without allowing for greater nominal exchange rate appreciation, it is unlikely the central bank will be able to meet its end-2006 inflation target of 8.5 percent. Turning to the financial sector, credit growth remains rapid, and it is important that prudential practices are strengthened under the new deposit insurance scheme to ensure that risks in the sector are appropriately managed.
In Ukraine, real GDP growth has slowed sharply, reflecting a less favorable external environment and political and policy uncertainties that have undermined investment.
Growth is expected to slow further this year— to 2.3 percent—as continued political uncertainties and a significant hike in import prices for natural gas weigh on activity. Inflation has fallen from a peak of 15 percent in mid-2005, but remains over 10 percent, while credit growth remains strong. Reflecting uncertainties about the economic and political situation, spreads on Ukrainian external bonds have widened somewhat and the central bank conducted substantial foreign exchange interventions to maintain the official hryvina-U.S. dollar exchange rate. The authorities need to tighten monetary policy to reduce inflation, support this with fiscal restraint, and implement reforms to create a positive investment climate. In Kazakhstan, growth remains strong, underpinned by high oil prices. Inflationary pressures, however, have risen, and the central bank has raised interest rates, although further tightening is still required. WTO accession negotiations are proceeding, but progress with other structural reforms has been slow.
Growth in the low-income CIS countries remains very strong, although there are considerable differences across countries. In Azerbaijan (oil production), Armenia (remittance inflows and a good harvest), and Georgia (agricultural recovery), growth has picked up, but in the Kyrgyz Republic and Tajikistan it has slowed. The central challenge for the region remains to put in place the policies that will maintain the strong growth needed to reduce poverty going forward. To achieve this, the sources of growth need to be diversified, particularly by improving the business climate to encourage investment in the noncommodity sectors, liberalizing trade regimes, and reducing high external debt levels.
Charts:
Commonwealth of Independent States:Unbalanced Growth Raises Concerns About the Outlook
Consumption has grown strongly in a number of countries, supported by wage and pension increases and rapid credit growth. Investment, however, remains relatively weak, raising concerns about the sustainability of current growth rates.
<![if !vml]>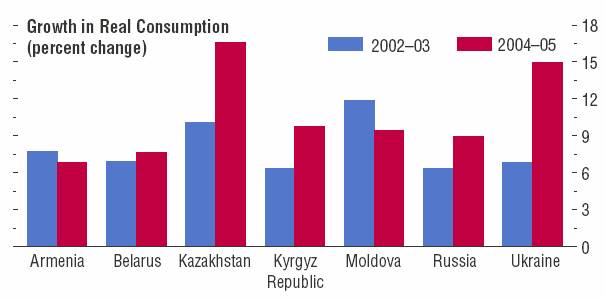 <![endif]>
<![if !vml]>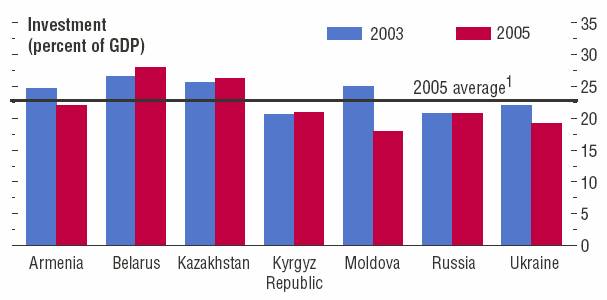 <![endif]>
<![if !vml]>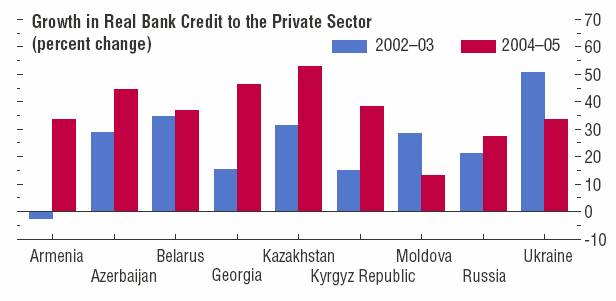 <![endif]>
<![if !vml]>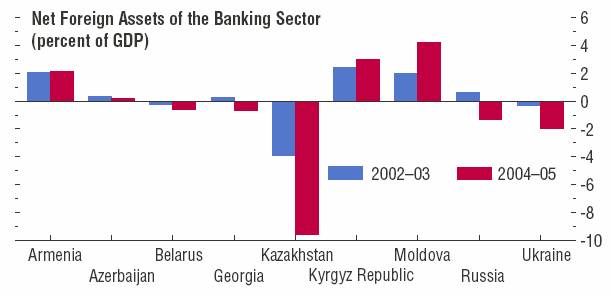 <![endif]>

Sources: IMF, International Financial Statistics; and IMF staff calculations.
1/ Emerging market and developing countries excluding China.