Mr. Rodrigo de Rato, the Managing Director of the International Monetary Fund (IMF), informed the IMF's Executive Board today that he will not be able to serve the full length of his mandate as Managing Director and intends to leave the Fund in October following the conclusion of the 2007 Annual Meetings of the Boards of Governors of the IMF and World Bank Group. <![if !vml]>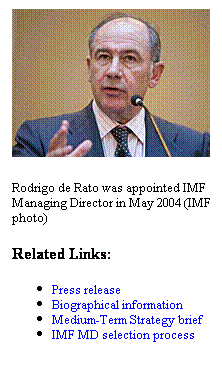 <![endif]>
He made the following statement on his decision to the Executive Board:
"I have taken this decision for personal reasons. My family circumstances and responsibilities, particularly with regard to the education of my children, are the reason for relinquishing earlier than expected my responsibilities at the Fund.
"My intention is to step down as Managing Director soon after the 2007 Annual Meetings and I wanted to share my decision with you as soon as I made it in order to provide the Board with reasonable time to appoint my successor.
"While I take this decision for personal reasons, professionally it has not been an easy decision because, as you all know, I have the highest regard for this institution, its staff, its role in the global economic architecture, and its enviable ability to adapt to changing global circumstances to ensure that it can serve its members effectively.
"Serving as the Managing Director of this distinguished institution has been one of the most professionally fulfilling positions that I have held. Indeed, it has been a great honor for me to serve the Fund and I will do so with the same endeavor and enthusiasm until my very last day.
"I would like to thank the Board and staff for their strong support and collaboration over the last three years. I am very proud of the work that we have done together and what we have achieved. The Medium-Term Strategy builds on ideas put forward by the Board, the staff, as well as useful ideas from outsiders who care about the role and effectiveness of this institution. It enjoys broad support among the membership, and has provided us with a useful road map for reform. I am very proud that together we have already delivered on key elements of this strategy such as the first stage of the quota increase and our new surveillance framework.
"I would like to assure you that I remain absolutely determined to make further progress on all aspects of the Medium-Term Strategy in the coming months, especially on quotas and voice, but also Fund income, crisis prevention, and on collaboration with the World Bank in low-income countries. Indeed, I hope that my departure could provide an incentive for all of us to work together constructively and effectively with the membership over the next few months to try and accelerate the time table in these areas and ensure that we make significant progress by the time of the Annual Meetings."
Following his meeting with the Board, Mr. de Rato added, "I am very touched by the expressions of support and understanding of our Board and our shared commitment to fulfill our agenda between now and the Annual Meetings."
IMF EXTERNAL RELATIONS DEPARTMENT
Public Affairs: 202-623-7300 Fax: 202-623-6278
Media Relations: 202-623-7100 Fax: 202-623-6772